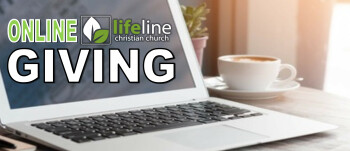 Thank you for supporting Lifeline's mission of sharing HOPE and adding VALUE.
Your faithfulness and generosity enable us to expand our influence and serve as a catalyst for transforming the spiritual landscape of our community!
Giving to Lifeline is now easier than ever!
ONLINE
You can choose to use a debit/credit card or an e-check direct from your account. Then you can choose to make a one time donation or set up a recurring schedule to give (weekly, every 2 weeks, monthly).
TEXT TO GIVE
And now you can also give right from your phone with Text 2 Give!
Simply text the amount plus "HOPE" to 30131 (Example: 200 hope).
Click the link to set up your account
Then give anytime from anywhere in the future with a single text.
ON THE WEEKEND
Cash: For your convenience, offering envelopes are available for your tithes and offerings. Simply place cash or in one of these envelopes and put it in the giving basket during the service.
Check: If you are giving via check there is no need to use a giving envelope. Please ensure that the information on your check is correct so that we can record your contribution to your giving account
BY MAIL
Gifts should be made payable and can be sent to: Lifeline Christian Church, PO Box 7268, Algonquin, IL 60102.
Thank You!
Whether you use the quick, easy and safe way to give online, or you give in person or through the mail, we thank you for investing your treasure in a mission that matters for eternity!