Real Life Stories - The Lifeline Family Is A Vital Part Of My Life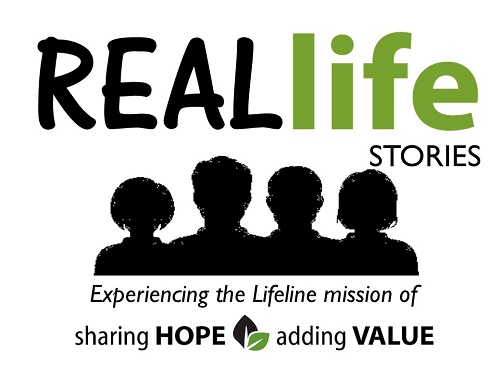 As with any story, there is always a background. I believe my "religious" background is unusual. I was raised Catholic, including Catholic school with plaid jumpers and nuns wearing habits with rulers. Anyone who attended a Catholic school in the 70s or before knows that rulers are no joke. My parents divorced and I was sent to live with my father at age 11. We attended a Methodist church for a couple of months, moved to a Baptist Church for a couple of years. After that, moving onto a Full Gospel church for couple more years, during that time we also investigated a Pentecostal church. Unable to decide, we attended all three for the next 3 years. You can say we were Full Bapticostals. At age 17, I went back to live with my mother, which meant switching back to the Catholic Church.
After high school, I had had enough of church for a while and did not attend. Until about a year before I was to get married, then I attend again. That ended right after the wedding (for many reasons). When our children were born, I started attending a Lutheran Church with them. Many of these churches irritated me with their expectations and rules. I eventually stopped going all together.
Fast forward a bit. I spend a lot of time volunteering for local organizations, one being our local Chamber of Commerce. This gentleman inquires at the Chamber; he is the pastor of a new church opening in Algonquin and wants to get involved. Lifeline joined the chamber and started getting involved. I, also, volunteer with the town festival and that year every volunteer spot that needed to be filled seemed to be filled by someone in a green Lifeline shirt. It was summertime with a lot of events, help was always needed. These Lifeline people seemed to appear where ever help was needed.
My best friend and I had been talking about church. We both felt something was missing from our lives and we planned on searching for a church home when the fall arrived. We talked about two different churches to start. We had gotten to know Dave a bit thru Chamber functions and decided Lifeline would be the first church we check out. We attended a couple of services and their Grand Opening. We never made it to the second church. We found our church family.
I love Lifeline. Especially since "there are no perfect people allow", I fit right in. I have learned so much about a relationship with God. And the talks on Sunday mornings relate so easily to the lives people live now. Lifeline is a family that helps each other and the people in the communities we live. We do life together.
Sharing HOPE and adding VALUE. Those words mean so much to me. Since I have joined Lifeline, I have had particular situations where I had no hope and felt pretty worthless. The times in my life when I thought no one was there, my Lifeline family was. The Lifeline family is a vital part of my life.
I have begun to work on my relationship with God. I have never done that before, never had a desire. I have incorporated the spiritual DNA into my daily life. I Depend on God like I never have before, I Nurture my relationship with God and others, and I help Advance the mission of Jesus.
By Sue B.