Real Life Stories - No Perfect People Allowed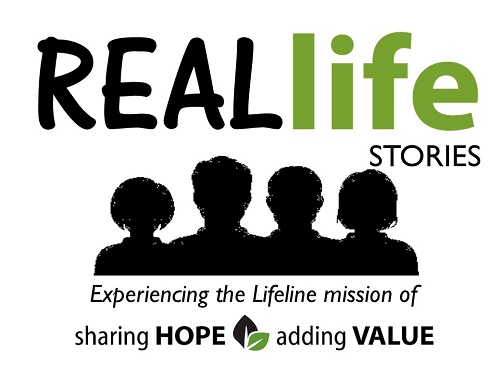 Sometimes, the simplest of measures can define a day as good—warm sunshine perhaps, or maybe it's a dance in the rain, or a day with puppies. Who can't smile when a puppy is near?
For me, a day of junk mail was a good day. No bills. No collection notices. Just wonderful junk.
One January day, I received a postcard from Lifeline Christian Church. Most of the time I'd toss such mail in the recycle pile with the rest of the junk, but a simple message on the invite caught my eye: No perfect people allowed.
I certainly fell into that category. Even more intriguing than the idea of spending a Sunday morning with a crowd of imperfect people like myself was that the church met in a bowling alley bar. Interesting.
I had tried church before; a few times actually, but it never took.
I knew what I was angry about, but I couldn't figure out what to do about it. I wasn't even sure that I wanted to do something about it, but the fact that I was looking for a church suggested that perhaps I did want to do something…even if all I really wanted was just an opportunity to call God out onto the back lawn and brawl it out.
I'd lose such a battle, of course, but for where I was at, winning or losing wasn't important. I just wanted to hit something.
No perfect people allowed. In a bowling alley bar. I envisioned a smoky room of alcoholics, the rosy-cheeked pastor giving his sermon like some Southern preacher, waving his hands in a flourish and commanding his flock, "Even when Satan tricks you with a 7-10 split, all you need is a twelve pound ball and faith to spare. Hallelujah!"
If nothing else, I thought I might be entertained. My wife cracked wise about Jesus and the apostles, all wearing matching bowling shirts with "The Holy Rollers" embroidered on the back.
I saved the post card from the recycle bin, but I half-expected that come Sunday I would have forgotten all about it. Although I surprised myself by going, it was a struggle just to get out of the car.
I sat for a time in the parking lot, just staring into space, questioning why I was there. I thought about where I was at in my life—emotionally, physically, financially. Spiritually didn't even make the list. I don't think I was really looking for God; certainly not in a bowling alley bar. I finally sighed, turned off the ignition, and said, "Okay…let's do this."
The wide glass doors slid open to a mix of people—old folks, young folks, kids—all jumbled in a flurry of activity. I was greeted by a man about my age, wearing a baseball cap, a diamond stud in his ear, and a bowling shirt.
I chuckled at the cosmic joke, a tiny glimmer of hope sparked that maybe God was paying attention to me after all. There was nothing embroidered on the back, let alone "The Holy Rollers," but that didn't surprise me.
Pastor Dave reached out and shook my hand. He seemed genuine, and slightly flustered between setting up and meeting and greeting. "Can I help you find something?" he asked, a cheerful energy in his voice.
"I don't know," I smiled back. "I'm not sure what I'm looking for," I swallowed. "But I'm looking for something."
Dave's smile pulled a little to the side as he put his hand on my shoulder. "Well, bowling is that way," he gestured before pointing into the bar. "We're still setting up in the bar. If you want to have a seat we'll be getting started in just a few."
The room wasn't smoky. The long bar was well lit, with light shining up through glass shelves, a few bottles brilliantly calling out. The bartender wasn't on duty yet.
Towards the back there were several pool tables. And the main seating area had a mix of restaurant tables, lounge chairs, couches, a fireplace, and two large screen televisions. It all felt surreal.
Posters advertised a bucket of beer, the upcoming UFC fight, the band that would play the following weekend. I introduced myself to a few of the people and grabbed a chair next to an older woman.
"Hi, I'm Kathy," she huffed, continuing on in a single breath about being a recovering Catholic, and about her mom being a hypocrite for sending her and her siblings to church every Sunday and never once joining them, and something about denying herself communion for some reason or another. I couldn't keep up.
Before I could even ask what exactly she was recovering from, she added, "We'd take the offering money and get ice cream."
"Hi, Kathy," I stumbled, "I'm John. I'm here because I received a postcard and thought Why not?"
Maybe I didn't know exactly why I was there or what I was looking for…why not seemed just enough reason.
By John R.